Android training and iPhone Training in Madurai from Blue Genie Technologies - Madurai
Wednesday, 4 May 2011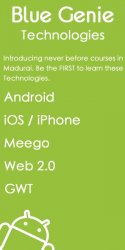 Item details
City:
Madurai, Tamil Nadu
Contacts

sangesh

9600302985
Item description
Blue Genie Technologies is the first company in the Tamilnadu to provide commercial Android training classes. We have since trained developers of some of the major phone manufacturers. Blue Genie Technologies continues to evolve its Android training program as Android platform gets more and more momentum. Blue Genie technologies focus on Apple, Android, Windows Mobile, BlackBerry, and other mobile technologies. The team has significant expertise in development, design and support for mobile applications.
Android and iPhone are emerging technology in market and we are proud to be part of this popular course. A unique combination of technical training, soft skills, real time projects, mock interviews will be part of the training.
Blue Genie Technologies is proud to announce Android and iPhone training in Madurai, Tamilnadu for Final year students, Fresher's and software developers who are looking to develop and deploy applications for Google's Android mobile.
Blue Genie Technologies also trains people in various courses like iPhone apps, PHP, Ethical Hacking, Meego, Web 2.0 and SEO.
For more info contact us:
Contact Name: Sangesh
Email: sangesh@bluegenietech.com
Contact Phone: +91 452 4393878, 9600302985
Address : #168, A.K. Towers, 3rd Floor
Near Millan'em Mall, 80 Feet Road
K.K. Nagar, Madurai – 625 020.